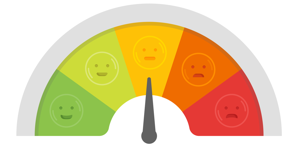 M.E.A.N. stands for Manipulation and Emotional Abuse Number. It is based on how many boxes you check in the assessment portion of The M.E.A.N. Workbook.
The assessment helps you start your journey as it specifically determines the level of emotional abuse, control, and/or manipulation you may be experiencing in your relationship. After you check every box that applies to your situation, you will be provided an evaluation based on that score. Once you read through your evaluation, you'll have a solid understanding of the behaviors that are causing the relationship to be so difficult.
Below is a small snippet of the assessment to give you an idea of what you'll see:
Once you check off all the relevant boxes in the full assessment, you'll be given a score and an evaluation based on that score. The above is a very tiny portion of the 200-point assessment, but it helps you picture some of what you'll be reflecting on as you go through the workbook.
You will use the evaluation of your M.E.A.N. score with the rest of the workbook to help you understand exactly what you're dealing with, what your options are, and what is likely to happen next. Suffice to say, the higher the score, the more complex and difficult the relationship is, and the more guidance you may need to take your next steps.
Next steps don't always mean leaving.
Sometimes leaving is necessary, but sometimes there are other ways of working and healing through what is happening. In the workbook, I help you go over all your options.
The assessment can be extremely enlightening and validating. At the same time, it might alarm you as you discover behaviors, both theirs and your own, that you may not have noticed before. But the workbook is not meant to be alarming. It's meant to educate and help you pinpoint exactly where the problem areas of your relationship are. Knowing the specific issues you're dealing with helps you put them on the table to be discussed.
Even if a discussion with the other person seems impossible, you'll still be able to reach clarity and finally put into words what you've been going through. At a minimum, you'll feel validated, understood, and saner than you have for a long time.
What others have said about The M.E.A.N. Workbook
I first want to say thank you for the podcasts that you do and the workbook that you put out.  I (luckily) stumbled upon your 'Love and Abuse' podcast in the middle of a 5 day stint of the "Silent Treatment", where my wife of 20 years proceeded to sleep on the couch for 5 days after a disagreement.  This was after already getting it 2 other times, in a total time span of about a month and a half… Luckily (or unluckily), I had already purchased your workbook. I was expecting it to be bad but I was truly hoping it would not be this bad.  The score I got was 146 and there was a few I could have marked but after going through the scores it did not matter.  Reading score "C" I thought that was my situation.  Then, when I read score "D"……I became emotional.  There are several lines in there that I hear verbatim.
Thank you for the workbook! I unfortunately scored a 172! Yikes. My individual therapist mentioned emotional abuse to me and not it all makes sense. I'm not crazy! Our couples therapist has sided with my partner as she is so charming and vulnerable in session and I just get angry and closed off.
I just completed your MEAN assessment and scored 145!!!!!! I've been in an emotionally abusive marriage for the past 6 years. He has fooled everybody around us that he is such a nice guy and I know everyone will point the finger at me for wanting out. I listened to your podcast on Narcissism and was crying because for once in my life I knew these feelings I had were not all in my head, and finally felt understood!
…It was the start of my journey with your podcasts and MEAN workbook I connected the dots… Paul I resonate with almost all the pointers and yet I missed all the red flags. I heard of it and never saw myself as a victim and only came face to face with the terminologies you used in your book such as triangulation, stonewalling, gaslighting, labeling, silent treatment, cold shoulder, tracking my every move, withholding financial and sexual pleasure know it's a long way for my recovery but I'm glad it's happening now. I truly can't wait to get acquainted with ME. Not sure who or what I am but am happy to embark on this journey of self-discovery.
I've just purchased the M.E.A.N workbook… I want to thank you from the bottom of my heart for everything you do to help people in these situations.  There must be an enormous number of couples out there who are in abusive relationships who may not even realise it because of their upbringing or other circumstances.  I never realised that what I was doing in my relationship constituted emotional abuse, or that my partner was being manipulative/abusive too, and I wouldn't have started to work on my issues had it not been for your podcast. You have enabled myself and thousands of others to have a happier future and I'm eternally grateful!
I purchased the MEAN workbook and got a score of 140. That was eye opening for me… Thank you so much for doing this work and helping me and others who have been blind to the emotional abuse and manipulation. My husband also has no idea that he unintentionally manipulates and abuses my emotions.



I bought your M.E.A.N workbook because i realized, that i am being emotionally abused by my mother. I scored 113 points.



This has no doubt been the most difficult and surreal experience in my life, and I've found so much resonance and comfort in the Love and Abuse podcast. The MEAN assessment is a helpful objective tool as I often second guess myself in the calm moments … my score of 78 is a good reminder that what happened is real and it's not okay for my partner to pretend like nothing happened